Icon Editor for Windows
Sib Icon Editor is a user-friendly icon utility for Windows. It allows to create and edit icon images and manage icon files and libraries for Windows, iOS, Mac OS, Android and web.
With Sib Icon Editor 5.19 you can:
Create and edit Windows Vista/7/8/10 icons
Create and edit Mac OS icons (ICNS files)
Create and edit PNG icons for iOS, Android, web sites
Create and edit icons in either standard or custom sizes, in color depths up to 16 million colors
Create and edit icons for Windows 10 in 32-bit color depth with 8-bit alpha channel
Paint images with gradient and chess fill
Modify images with drop shadow, inner shadow, round corners, opacity, smooth, negative, grayscale, colorize, hue/saturation, rotate, roll and mirror effects
Replace image colors
Create and manage icon libraries for better and more efficient storage
Paste images in various graphic formats (ICO, ICPR, ICNS, BMP, JPEG and PNG) directly into icons
Export icon images to ICO, ICPR, ICNS, BMP, JPEG and PNG files
Import and convert SVG, AI, PDF files (Installed Inkscape is required)
Extract icons from Windows executables, libraries and animated cursor files
Extract icons from all files in selected folders and subfolders and save them as icon libraries
Convert Mac icons to Windows format
Make web buttons
Create icons for Android, iPhone, Nokia, Windows Mobile, Windows Phone applications
System requirements: Windows PC.

Trial limitations: none.

Buy icon editor: $29.95 or 24.95 EUR.

Download icon editor:
exe
Get the Icons You Want with Our Icon Converter
You can become an icon master with our easy-to-use icon converter.

Fleshing out your applications and projects with beautiful icons can be a simple and convenient task when you have the right tools. Our icon converter has been designed to allow users at all expertise levels (even total beginners) to create eye-catching icons that precisely meet the specifications they're after. With just a few minutes, users can create great-looking icons and other small graphics based on existing images or icons imported from another platform, such as Mac.

If you've ever wanted to create icons from pictures and graphics already in your library or easily exchange icons between operating systems, our icon converter is the right utility for your projects. It's simple to make brand-new icons from photos, so you can move from idea to finished product quickly and with a minimum of design experience. With plenty of options available for configuring icon size, transparency, and color settings, you can achieve the right specifications regardless of how and where you'd like to use your icons.

Work with a wizard program that understands your need for an efficient way to convert files to usable icons. Our converter has everything you'll need to make an attractive piece or a full collection of icons, styled and refined in any way you choose. With the right icons available whenever you need them, you can bring a world of great design to your projects and add value to your visual work almost effortlessly.

More info: http://www.sibcode.com/icon-converter/index.htm



Perfect Doctor Icons
Medical Icons for Windows 7
Health Care Icons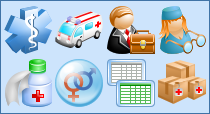 Medical Toolbar Icons
Sib Icon Extractor
can scan your archives, folders, files and all local disks for icons. It will download icons from the Internet and customize Windows icons.
Icon extractor
Sib Icon Converter
allows you to convert multiple digital images and photos to Windows icons in one action. It also breaks down entire icon libraries into individual icons.
Icon converter