A Slim Plug-in Lets Users Create Compelling Icons Directly in Adobe Photoshop for Windows
Icon Plugin for Photoshop enhances Adobe Photoshop with an ability to export and import Windows icons (.ico). Thanks to this ability, users can create compelling icons directly in Adobe Photoshop, using its large arsenal of creative tools and a convenient and familiar design environment. The use of the plug-in eliminates the need to use intermediate files and buy additional icon editors. In addition to Adobe Photoshop, the plug-in can work with Elements, AfterEffects, Premiere, PhotoDeluxe, Corel PhotoPaint, PaintShop Pro, Painter, and Photo.




Icon Plugin for Photoshop provides all the features, which are required to achieve professional results in creating icons. It supports multi-format icons, transparency and semi-transparency and allows making icons, which are compatible with Microsoft Windows XP and Vista. The plug-in also supports non-standard icons of different sizes and color resolutions, including monochrome, 16 colors, 256 colors, 24-bit True Color, and 32-bit True Color with semi-transparency. Customers have an ability to add and remove sub-icons from icons. The plug-in is compatible with all versions of Adobe Photoshop, including 3.0-7.0, CS, and Windows OS.

System requirements: Windows 95/98/ME/2000/NT/XP/2003/Vista/7/8, Photoshop 5.0, 6.0, 7.0, CS/ Paint Shop Pro 9/ Photoshop Elements 3.0, 32MB RAM, Pentium-233 MHz, 1MB Hard Disk.


Standard Software Icons
Business Toolbar Icons

Database Toolbar Icons


Price: free.

Download icon plugin (0.7 MB):
zip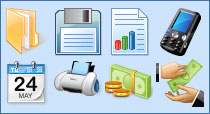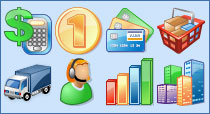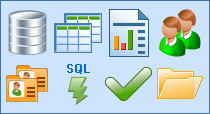 Sib Icon Editor
is a power-packed icon editor, featuring abilities to work with Windows Vista icons and to extract icons from all files and save them as icon libraries. It has a knack for refining your system interface!
Sib Icon Extractor
can scan your archives, folders, files and all local disks for icons. It will download icons from the Internet and customize Windows icons.
Sib Icon Converter
allows you to convert multiple digital images and photos to Windows icons in one action. It also breaks down entire icon libraries into individual icons.
Icons
for medicine and chemistry: ambulance car, snake cup, pill, tablet, tooth, phial, syringe, test-tube, skull, bones, molecules and others.
Icons
for online trading: hand cart, money, pill, sum, drug, music, radio, PDA, web-camera, mouse, calculator, certificate, delivery, help, globe and others.
Junior Icon Editor
is an easy solution to icons-editing needs. The program supports True-Color and 8-bit icons, imports and exports PNG and XPM images and, basically, provides guidelines to a fresh look of your desktop!